WHAT CAN I DO WITH A BIKE IN MALAGA?
Malaga is wonderful. We have the best weather, fresh fish and a good mood that will make your day. The sea has a lot to do with it. It must be the breeze, working as a washing machine, It will clean any worries you have. It has been doing it for centuries, and we love it.
We always say that one of the best ways to start a good story is to start it on the beach.
The best advice we can give you is to rent a bike in Malaga and start your own adventure.
This city offers countless possibilities on wheels. A privileged spot, built at sea level, which extends all along the coastline. Making easy your possibility of discovering the whole area quickly and easily by renting a bicycle.
Whether you move along the city center or start a longer route, you can discover all this city has to offer you. We have at your disposal various routes, all of them interesting.
Of all the range of activities, renting a bicycle is always the cheapest.

You just have to choose the direction you want to go, the rest will be easily done by your bike.
To the north we have the Botanical Garden of La Concepción. You can get there just renting an urban bike , a road bike or an electric bicycle. A green wonder that you can not miss: Aquatic plants, prehistoric, insectivorous, orchids, a collection of African plants and another of bamboo. Around the world in 80 trees, the collection of palm trees, a collection of varieties of Malaga vine trees and another of olive trees. Cacti and succulents, subtropical fruit trees and the historical lemon trees. A jungle at your disposal. You just have to follow the course of the river up north. Passing by the football stadium of La Rosaleda. A mythical space in Malaga.
When hiring your bike you will always have a free helmet, if you need it in any longer route. If you have kids, there will be the possibility of taking baby seats for free in our bike rental shop.
Going east, You will find one of the best routes in town. Renting an urban bicycle, we will go with the sea as a companion. We have at our disposal a wonderful promenade. Starting from the center of Malaga,you can visit the Port, entering the famous Muelle Uno and knowing La Farola, the bicentennial lighthouse of Malaga with a female name.
Malagueta and Caleta, iconic beaches of Malaga. Los Baños del Carmen, a Mediterranean jewel that will leave you speechless. Used to be an old spa. Now is revamped with a terrace bar on the beach. It will make you travel back in time to another era. Pedregalejo is another wonderful place. Small houses next to the beach that form a remodeled fishing village. Although modernity has fully entered Pedregalejo, there is still a fisherman vibration. Small horseshoe-shaped beaches with endless restaurants and establishments designed for enjoyment. Music, sardines and tranquility next to the sea breeze.
The promenade allows and facilitates travel by bicycle. Allowing you to reach the best points without wasting time or getting tired. Just after crossing a beautiful bridge you will ride your bicycle to the neighborhood of El Palo. There is nothing more authentic in Costa del Sol.
The best roast fish at the best price. This is a must see if you when visiting Malaga. One of our favorite parts of the city, and this is where the locals go for eating espetos.

If you are a curious person, and you want to continue moving further east, the best option is to rent an E-bike. With an electric bike rental we can go way further, riding all along the seaside. It is beautiful. Passing El Palo neighbourhood we will arrive at the marina of El Candado. Right after, you will find the natural site of the Peñón del Cuervo, a protected biological enclave with rock formations. Next to the beach we find suitable spaces to take a break and have a picnic by the sea.
The best thing about an E-bike is that we can effortlessly continue our way to the most beautiful part of the route.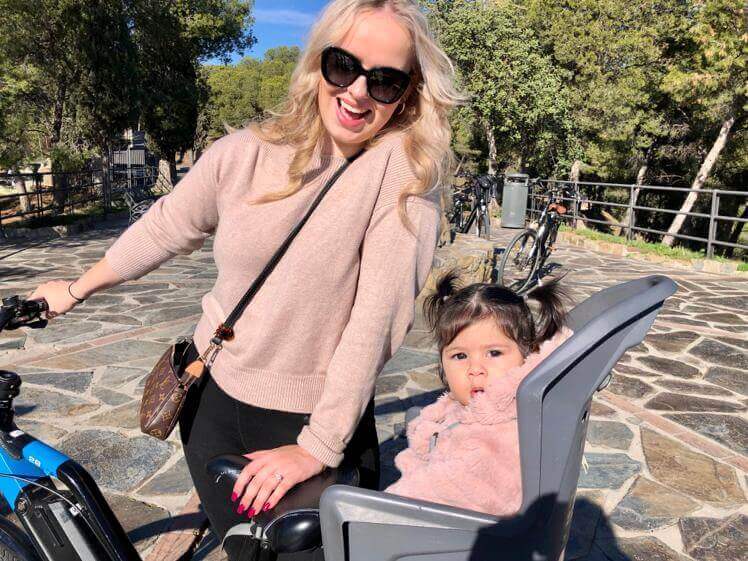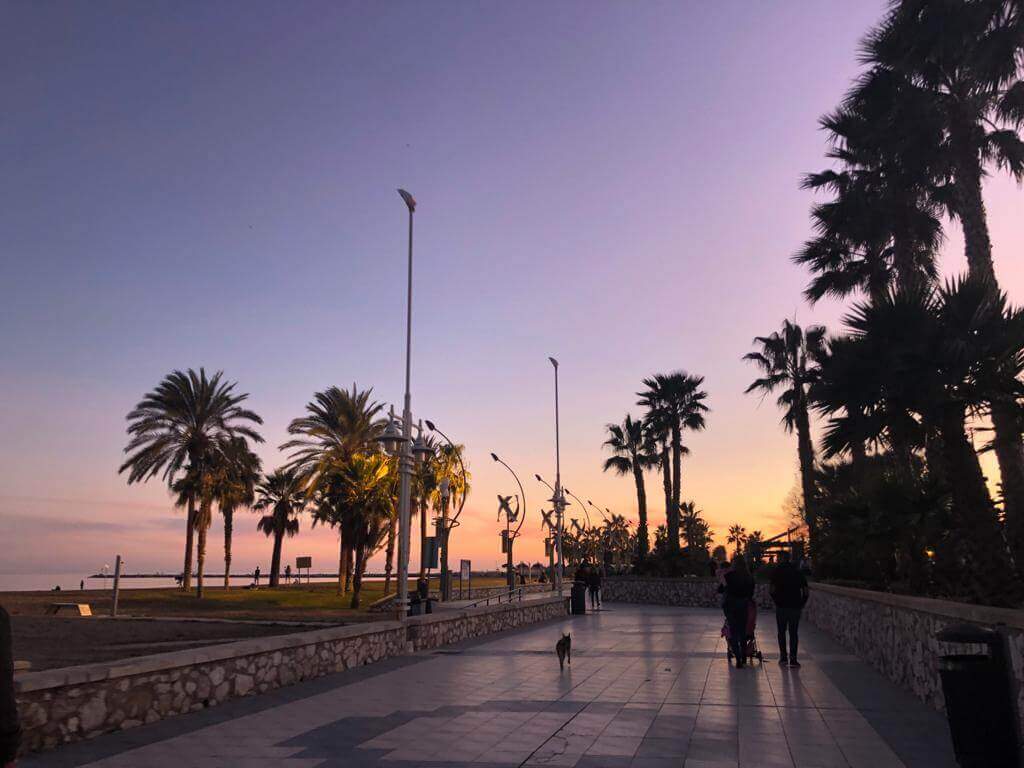 Passing La Araña and La Cala del Moral we will go through old railway tunnels taking us to El Rincón de La Victoria.
Excavated in the rock we have the Sanctuary of the Virgen del Carmen, a tribute to the patron saint of fishermen. A dream come true. Either you ride a road bike or an electric bike, your trip will have tons of fun.Facing west, Malaga has a perfect plan for the whole family. If you have any children, It is easy for you to rent a bicycle equipped with a children's chair, baby seat or even a rear cart, so the little ones will feel kings for a day.
You can visit many different parks and areas perfects for leisure and recreation, all full of beauty. In addition, the road can not be easier: as soon as we pass by the Train or Bus Station, we will find the bike path of Malaga. A red track on the ground that will take us easily and without frights throughout our adventure.
We will start touring the promenade of the beaches of Huelin, a more local area. Next to the wide beaches of San Andrés and La Misericordia we will find Huelin Park.
Huelin Park entrance is for free. It has a large lake in the central area, with a big lighthouse next to it. In the middle of this lake there is an island with palm trees and a small fishing boat, traditionally used on the coast of Malaga. One of the sides of the park is bordered by a small river, crossed by a beautiful wooden bridge.
When we rent our bike, we will receive a free lock. So we can park without problem our vehicle. We will enjoy the whole area with comfort. We can enjoy a dog park, playgrounds for children of all ages, sports courts to play a quick game of football or basketball, an outdoor gym to get fit and a rose garden. Bike and ride are the perfect plan.
Renting a bike on the Costa del Sol has infinite advantages, given the good weather and the size of its cities. Bicycles are the perfect choice. And you always can rent a bike online.
By hiring a bicycle online, you can be sure we will keep your bikes ready whenever you need them. Continuing our ride along the coast, we will find the Automobile Museum. An interactive museum where people of all ages can have fun. Replicas and endless fun.
Next after, It is El Parque del Oeste, West Park. A massive space with endless things to do. Riding a bicycle through the Parque del Oeste is a pure joy.
There is water everywhere, with ponds and swans, a large lake and a spectacular geyser. Lots of vegetation in all colors. Picnic areas, and soccer and basketball courts. Even a zoo with lots of fish, geese and ducks, large snakes, mountain goats, some chameleons and small kangaroos.
Continuous transformation is an important part in Costa del Sol, from Fuengirola to Malaga. And every day is better for riding a bicycle and an Electric Bike.

The last beach of Malaga, and therefore of our journey, is Sacaba beach.
A beach at the end of the promenade. We will reach the delta of Guadalhorce River. A natural area where the river meets the sea.
Migratory stop of numerous bird species. An incredible spot to travel with your bike without leaving Malaga city.
These have been just a few examples. We have many more routes and surprises to discover.
Rent your bike online to ensure the model you want at a better price. With free map, free bike helmet and free bike lock. An ecological, practical, cheap and simple alternative with which to know the city of Malaga and all its surroundings.
We are from Malaga and we know our land very well. Come meet us and try!